Bror Duktig Design = Communication design
After two decades in the advertising industry, recent as Creative Director I have fully handled or been closely involved in all disciplines, often in cooperation with recognized and talented creative souls.
I now act as an independent designstudio in a friendly and productive network of design do:ers.
The services are a bit more streamlined but still multidisciplinary. You can call it end-to-end solutions.
Defining the problem, creating ideas and deliver top-notch visual communication
The service provided, in short terms
Leading the design process and coming to a closure. Hands-on!
Implement strategies in a digital environment
Specialties / Skills in a summary
Aiming to exceed client's objectives
I have a solid experience with a track record in advertising, branding and design. 
Solving clients briefs and make them into selling concepts.
Highly dedicated, with a strong aesthetic sense.
A proud craftsman with knowledge of what it takes to come to a closure, hands-on!
Always interest in learning more in close cooperation with the client and within the network.
Worked both with B2C/FMCG and B2B clients.
Conceptual launch and relaunch services and products.
Developed CI (Corporate identity) for several clients.
Experience and education:
Swedish art-schools in communication and continuing education in specific areas e. g. Digital Strategy (Hyper Island) and Innovation Management (Berghs).
Been an employee until 2011 in a few but highly esteemed agencies in the Malmo Metropolitan Area.
A client once said it all... :)
"Tomas has been the creative brain behind most of our communication and promotion efforts in Nordic. He is for me THE example of a customer oriented agency guy who challenges, comes with out of the box ideas and at the same time knows the customer so well, to stay realistic enough of what can really be implemented. It has been such a pleasure to work with Tomas! Thanks for pushing us the extra mile for excellent results!"
 For more detailed references, clientlist etc. please send a message specifying your needs and requirements.
I'll get back to you asap.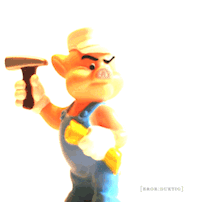 Who f*k is "Bror Duktig" !?
"Once upon a time there was an old Sow with three little Pigs, and as she had not enough to keep them, she sent them out to seek their fortune..."
Afraid of the Big Bad Wolf? Or perhaps just seeking for a more practical one?